get the sadie epilogue now!
an audiobook preorder exclusive
Macmillan Audio and Libro.fm have teamed up to make something incredible happen: preorder I'm the Girl from Libro.fm by 9/13 and you'll immediately receive a link to download Greetings from Sunny Los Angeles: A West McCray Epilogue.
That's right—we've realized the last piece of Sadie's story in audio.
And Dan Bittner has reprised his role as West.
And you don't have to wait to hear it.
When I wrote Greetings from Sunny Los Angeles, I felt very much like the Sadie chapter of my life had finally come to a close and when I heard this, I cried. I can't think of a more perfect punctuation than Dan's stunning performance. If you'd like to be among the first to know what happened to West in the years following The Girls and how Sadie has impacted his life now, visit https://blog.libro.fm/im-the-girl/ and place your order.
Please note, at this time, this is a preorder exclusive and cannot be claimed after release.
This is a Libro.fm exclusive. Libro.fm is an audiobook service supporting independent booksellers and I'm thrilled we got to collaborate with them for this and send love to indies in the exchange! Thank you to Libro.fm for the opportunity, Macmillan Audio for once again producing an audio experience beyond my wildest dreams, and to Dan Bittner for sharing his talents with Sadie's world a second and final time.
And! Because the audiobook is an eligible format for Wednesday Books's preorder incentive, don't forget to submit your Libro.fm receipt to https://read.macmillan.com/promo/imthegirlpreorder/ to receive an exclusive Jenifer Prince art print, a signed bookplate and Greetings from Sunny Los Angeles as a pdf file, which will roll out to inboxes just before I'm the Girl's September 13th pub date.
By the way—I'm the Girl's audiobook? Mind-blowingly devastatingly good. You can see me reacting to, and my thoughts about, Lori Prince's heartbreaking narration here.
If you're among the first to hear this Sadie epilogue, let us know! Tag me (summerscourtney), Macmillan Audio (macmillan.audio), Libro.fm (librofm) and Wednesday Books (wednesdaybooks) on Instagram. We'd love to see how devastated this one leaves you and your guesses about what Greetings from Sunny Los Angeles brings to I'm the Girl . . .
Enjoy. xo
---
NEWS: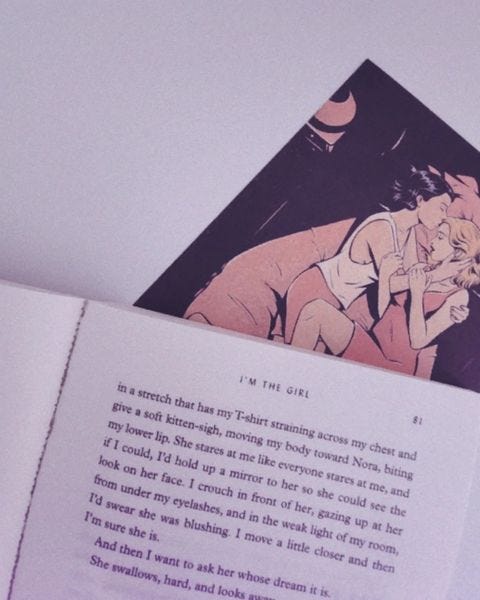 PSA: Lesbians.
---
You can read the entirety of I'm the Girl's prologue now:
Part One | Part Two | Part Three | Part Four | Part 5 | Part 6 | Part 7
---
---