last call
"wasn't it a strange way down?"*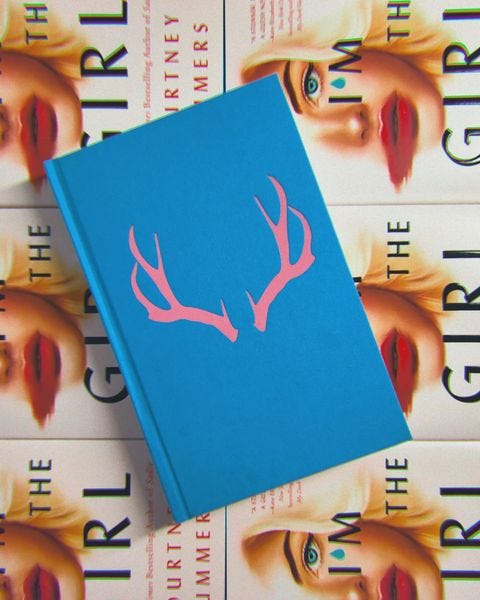 There's this scene in Sadie where Sadie's thinking about her life with Mattie. The work of it, the scope of that work, the challenges and the beauty and the rewards of that work. Thirteen years, she narrates, grinding my bones to dust . . . I don't know how I did it. I don't know where, underneath it all, you'd find my body.
It might be my favorite line in the book, tiptoeing into my head every now and then in the same way the thing no one tells you about survival does from This is Not a Test and Lo's refrain of who am I? from The Project. I guess I'm a little haunted by those moments where my characters are forced to reckon with the inescapable demands of their stories, of how many pages there are still left to go.
I wish I could tell you about the year I've had.
It began with the loss of one of my greatest champions and never quite recovered from there; a painful bruise of a year preceded by one just like it. I have been through, if not a lot—enough. And because I'm nothing if not consistent, I continue to find consolation in the works of Leonard Cohen. What a cliché. You can laugh at me; I do. And it's not just his poetry. It's his music too. Who knew the best track on Songs of Love and Hate wouldn't be Famous Blue Raincoat? Anyway. Leonard. I think he has this beautiful way of articulating struggle without indulging in it—incredible when you consider its part in his work. And I think that achievement is likely owed to his commitment to making sure one always upheld the other. It's one of the things I admire most about him, and his writing. I read Death of a Lady's Man for the first time very recently, and while I liked less of it than I loved, it will probably become one of those books I remember better than the books I loved more than I didn't.
"We are not interested in the agony of your fumbled organs," Cohen wrote in How to Speak Poetry. "There is nothing you can show on your face that can match the horror of this time. Do not even try."
I've been scratching out this newsletter for a while, weighing what it would say against what I wish it could, trying to find the exact words to satisfy this tension inside me. I have a book coming out imminently; what is the thing I feel you most need to know? Is it just the agony of my fumbled organs? Because Leonard Cohen's right—that's not interesting. But when I realized How to Speak Poetry, and its insistence that words are data, that the absence of performance is power, seems fundamentally to be about the respect an artist should have for their craft and audience, it felt clearer.
When I'm the Girl's era began in earnest, I made the promise I always make when I put out a new book: that everything I do for its sake be purposeful and add meaning to this experience, and I hope it's felt that way. It's important to me to make sure the value I place on my work and my readers is reflected in the effort I put into its writing, and the efforts I make in support of its publication, and in the wholeheartedness of those efforts. So when I say I wish I could tell you about the year I've had, it's not because it was painful enough I think I could sell you on or with my pain, but because everything I've done in the name of this book was in spite of a place I've been crawling my way out of the whole time. I don't always know how I did it. I don't know where, underneath it all, you'd find my body.
But like Sadie, I know why I did it.
I did it because I love this book. Goddamn, it actually kind of hurts, how much I love this book. I did it because I believe in what it has to say and who needs to hear it. Because I know exactly what supporting my work asks of you in terms of your time, attention, and your money, and because I'm grateful to you for it, and I will always meet your readership with everything I have in me to give.
What I want you to know is with I'm the Girl, I gave all that—and more.
This newsletter is scheduled in my calendar as "last call."
Thank you for going on and sharing in this journey with me.
I really hope you'll pick up a copy of I'm the Girl when it releases next week.
---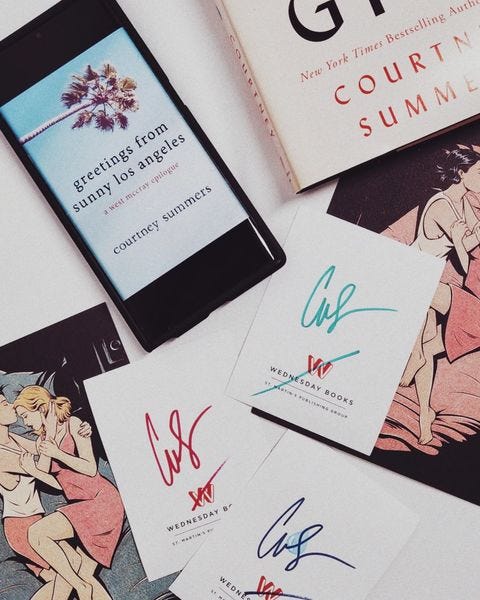 One week left for I'm the Girl's preorder campaign. Submit your receipt to Wednesday Books to receive Greetings from Sunny Los Angeles—a short story epilogue to Sadie and bridge to I'm the Girl—an exclusive art print by Jenifer Prince (available in two editions), and signed bookplate.
Preorder the audiobook from libro.fm to immediately receive a download link to the audio version of Greetings, but don't forget to submit your receipt to Wednesday to receive all other incentives. Similarly, if you've claimed the indie-exclusive pink print from a participating indie, you must submit your receipt for the rest of your gifts. As I can't (yet) guarantee the future availability of any of these items, particularly the Sadie epilogue, I encourage you to take advantage of this offer while you can, if you can. It ends on September 12th, 11:59 PM.
Here's a sneak peek of Greetings from Sunny Los Angeles sampling Dan's Bittner's stellar narration in his return as West.
---
Will you join me for I'm the Girl's launch? Due to extenuating circumstances, Wednesday Books and I had to move what were planned in-person events to virtual, but what we've lined up online is, well, incredible. Stunningly talented conversation partners, amazing hosts—what brings it all together is you. And I'd really love to see you there.
SEPTEMBER 13th | 7 PM ET | Zoom
In conversation with Nina LaCour, hosted by Oblong Books
Attendance is free, RSVP required: https://www.oblongbooks.com/event/virtual-launch-courtney-summers-im-the-girl
SEPTEMBER 14th | 7 PM ET | Zoom
In conversation with Sara Farizan, hosted by Brookline Booksmith
Attendance is free, RSVP required: https://www.brooklinebooksmith.com/event/courtney-summers-sara-farizan
SEPTEMBER 15th | 6 PM | TikTok
Live on the Barnes & Noble TikTok with B&N bookseller Mando
Follow @BNBuzz on TikTok
SEPTEMBER 16th | Instagram
Wednesday Books Instagram Takeover
Follow @WednesdayBooks on Instagram
---
IN-PERSON EVENT:
SEPTEMBER 30th | 6 PM | Brigantine Room, Harbourfront Center
Toronto International Festival of Authors/TIFA Kids
Bodies of Evidence with Louisa Onomé & Courtney Summers
More info / purchase tickets
---
NEWS:
I talked about I'm the Girl and what Georgia's story reveals about ourselves with Laura Simeon at Kirkus.
I'm the Girl received its third starred review from School Library Journal and is an Amazon Best Book of the Month.
---
---
---