to care without compromise
those battles i could once survive now seem to be destroying me*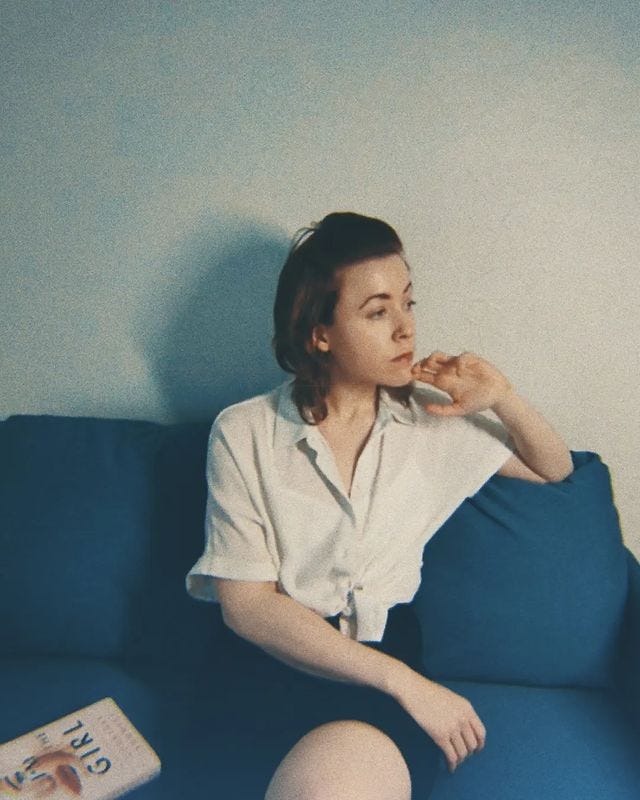 I revisited All the Rage recently and when I finished, I thought, my God, what a book. It was something like five drafts before the raw crackle of Romy's voice asserted itself and if it had taken me one more draft than that, I was told we might have to consider pulling it. I thought it would kill me before either outcome occurred; one morning, I woke up and I couldn't breathe. I was choking, actually, scrabbling at my throat with my hands. Then, immediately to the doctor's, where I told the nurse it was because of the writing and was promptly prescribed antidepressants. Those pills remained untouched in my desk for the next four years or so, the blue bottle rolling into view every time I opened the drawer before I finally disposed of them.
I've never told anyone that before.
---
When Cracked Up to Be released, its necessity was sometimes interrogated in light of the fact you could go to any bookstore or library and pick up a copy of Speak instead. While it never hurt my feelings to have my name mentioned alongside one of the young adult category's greatest luminaries and most deservedly seminal titles, the book's similarities were superficial and their differences, pronounced.
There was something about it, though. Something that rattled me in a way I didn't, at that time, have the ability to articulate. But I got back to work with my writing, completing and releasing my sophomore novel, Some Girls Are—an ode to girl-bullying and girl aggression—within a year.
And the exact same thing happened.
It was like an electric shock, the way I suddenly understood the implications driving those particular responses, and it was those implications, not the comparisons, that had so unnerved me.
We have that book. What made you think we need another?
But what is "that" book, precisely?
And what is it that we have too much of?
---
By the time All the Rage came out in 2015, quite a few YA novels about sexual violence had just been or were about to be published. If contemporary fiction serves as a mirror, this influx was reflecting something incredibly grim back at us. Rather than use this spate of releases to examine a culture that created an increasing need for teen literature exploring different expressions of sexual violence, a soft sort of 'rape book' discourse occurred.
Why should I read your 'rape book' over all these others?
Rape book.
In All the Rage, Romy frequently disassociates because of the sexual violence that's been committed against her, and to have my book reduced to that violence, and its survivor quietly pushed from her own story, was nothing short of devastating, and wasn't without consequence: a long-standing and continuing critique some have of All the Rage is how little it features Romy's rapist.
---
My books usually begin as a spark of anger I feel about their subject matter—like, say, the patriarchal power systems that protected Jeffrey Epstein and helped enable his abuse of young girls. I live inside the horror of it, or maybe I let the horror of it live inside me, and then a book takes form, a reckoning. But immersing myself in the first person perspectives of its female narrators demands I move from anger into empathy, to focus on and to prioritize my commitment to believing victims and survivors.
A character like Georgia Avis is woven from this commitment. It's best exemplified by I'm the Girl's refusal to make the lessons in the story hers to learn. In its refusal to moralize against the world's ills at her expense. In its refusal to use authorial voice to generalize, simplify, or deny the specificity of the book's portrayal of sexual violence to make less demands on its readers. In its refusal to have other characters explain to Georgia what she went through and how foolish she was to put herself through it, and to have Georgia agree with them, in the interest of making her a more likable, palatable, victim.
And when I say refusal, I'm being literal. Each of these refusals had to be supported by my countless hours of meticulous research and occasionally included outsourced reads by experts in their fields. These moments in the book's development took on a wash of unreality for me, that my indictment of rape culture would require a defense. But it's become one of the best examples I have of how insidious rape culture truly is and can be: all of these suggestions stemmed from the well-intentioned place of wanting to protect the manuscript from a social disease that insists on putting victims, and not abusers, on trial—and while those types of readers will do this to Georgia anyway—implementing any of them in the manuscript myself would have meant subtly facilitating its spread.
Long after those conversations were over, I would find myself obsessively digging even further into victim testimony, burying myself deeper under as many examples of our collective failure of victims and survivors as I could just to be sure: this is the way the world is.
And it was during this time—after all that time—my panic attacks returned.
---
I'm often asked what it's like to write books about a world that hates women in a world that hates them, but a more pertinent line of inquiry would be what it's like to publish them. I wanted to give you this glimpse into the last fourteen years of my career, that how whenever a book is in conversation with subjects like patriarchy and rape culture, so to—at every stage—is the response. Which is why, and with that knowledge, whenever I finish a book and the publication process begins, this is the question its release is essentially built around:
How do we make people care about a girl?
And while I will be the first to tell you how incredibly gratifying it is to work with a publisher and team as socially conscious as Wednesday Books, who is determined to uncover that answer through thoughtful and innovative marketing strategies like a world-wide trending hashtag or a limited podcast series, in a cultural landscape that's just reached new lows in its attacks on the rights and personal and bodily autonomy of all women, I can also tell you it's an increasingly difficult question to keep returning to, just by sheer virtue of having to ask.
How do I make you care about girls?
You can't, a bereft All the Rage's Romy insists, after trying to negotiate her humanity with a world that left her for dead on the side of the road. And in a way, I agree with her. None of the books I've written can make anyone reading them care about, believe in, and empathize with girls. They can only serve as a space where you have nothing to lose by doing it.
And my work will be ceaseless, no matter what it is you choose.
---
You set an even more ambitious and culturally divisive project for yourself, knowing people would be afraid of empathizing with the person at its heart and how she experienced grooming/violence, a good friend said of Georgia and I'm the Girl, not long after I finished the book, and you still did it without compromising.
I'm the Girl releases in two months.
---
I'm so happy to welcome independent bookstores Pocket Books and Copper Dog Books to I'm the Girl's preorder campaign.
VIRTUAL EVENT: Appearing on BookTalk's The Thrill of the Twist panel July 24th, 3:30 PM - 4:30 PM EST, with authors Jessica Goodman (The Counselors), Kim Johnson (This is My America), and Katie Zhao (The Lies We Tell). Tickets are free. Register here.

The Project ebook is on sale for $2.99 through the month of July. Buy now.
---
---
* from Metric's Paths in the Sky